Manchester United is preparing in signing Ansu fati' to "old Trafford" before the end of this Season. The Barcelona youngster currently has a release clause of £152million, but Man United preparing their bid for the youngster before his buyout clause increases after the Pandemic disease.
Manchester United are doing everything possible to complete the signing of 17-year-old youngster "Ansu Fati" from Barcelona before his buyout increase
Barcelona are currently prepared to raise the clause to a staggering £360million.
Man United have reportedly prepared an £89million an offer for the youngster which was rejected by the club.
Reports have shows that Ole's men will not give up their pursuit and are now more determined to land the Barcelona Under-21 star to the Old Trafford.
United are preparing an increased the bid for the youngster before release clause of £152million by La liga.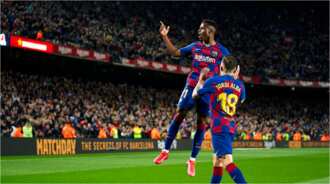 Former Manchester United star Michael Owen believes the arrival of January transfer signing Bruno Fernandes has made Paul Pogba replaceable at Old Trafford has Paul is at the existing door out of the club.
Former England international has now urged his Former club to sign Jack Grealish's this summer.
Man United have also show interest in signing Wolves striker "Raul Jimenez has the club is struggling for striker after the exit of Lukaku to inter Milan
Wolves will now face a stern test in a bid to keeping the Mexican striker as it was gathered that many clubs are interested in signing the 29_year old striker.